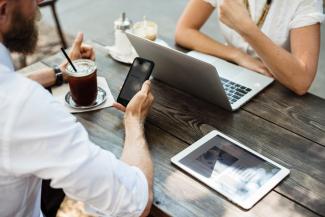 Times are changing, as are the demographics of our society and the speed of digital communications. We are excited to announce our initiatives to meet those changing needs.
St John & Associates has been a fee only independent financial advisory firm in Georgia for over 25 years. We have always partnered with clients to help them make sound and timely financial decisions and achieve their lifestyle goals in compliance with the fiduciary standards set by our membership in NAPFA. Now, we will be able to service our client's needs wherever they happen to be.
We are proud to announce our new website, www.stjohnfinancial.com, is up and running, thanks to the professional guidance and support of Impact Communications, Inc. The new website is accessible on computers, tablets and phones, and we have added several interactive features.
You can easily contact us through any page on the site, as well as sign up for our newsletter, get a clear overview of our services offered, see our latest Quarterly Commentary, and fill out the New Client Information Form. We have also added the Client Portal, which includes links to our secure Morningstar Portal for transmitting your sensitive personal information, and to Everplans, a secure on-line way to store your documents and information for easy access from anywhere, which we offer to all our clients.
Our new blog has articles on many aspects of financial and investing knowledge, and we'll be writing and adding articles weekly. We will soon be adding the ability to directly schedule appointments with us on-line, as well as integrated forms that will make the entire client process smoother and more efficient.
We will also soon have the ability for clients to view plans remotely, securely, and in real-time, giving you the most timely and accurate interactive planning available. One of our goals is to offer our clients the most responsive, flexible and accessible experience possible. We invite you to take a look, and tell us what you think.